Logging our steps: An update on coaching research as we look around the bend
In this reflection, TLI Board Member and Wisdom Weaver, Melvin Smith, PhD, provides an update on the state of coaching research since our first collection and reflects on its connection to our newest collection which focuses on the role of emerging technologies in shaping the Future of Coaching.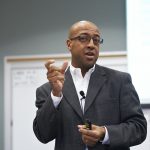 Dr. Melvin Smith
TLI Board Member
United States
---
Recognizing progress while charting a new path for the future of coaching research
It was my pleasure to participate in the first ICF Thought Leadership Institute convening of coaching researchers from around the world in September of 2021. That convening yielded robust discussions around four critical areas where further coaching research is needed: (1) desired coaching outcomes; (2) effective coaching processes and mechanisms; (3) implications of coaching for people from distinctive cultures, genders and context; and (4) ideal coach competencies to produce client change.
Following that convening, Richard Boyatzis and a number of colleagues published an article entitled The Grand Challenge for Research on the Future of Coaching (Boyatzis, Hullinger, Ehasz, Harvey, Tassarotti, Gallotti and Penafort, 2022). In that article, they outlined several specific research needs in each of the four themed areas from the convening in an effort to stimulate further research on those topics.
Now, as we move forward in our quest to understand the future of coaching, we shift from the state of coaching research in the last collection to the role of Artificial Intelligence, Machine Learning, and technology in coaching in our newest collection. While it is too early to assess the impact of this call for additional research, highlighted below is a small sample of recently published work and work in progress that addresses some of the key research needs outlined in the Grand Challenge article while looking around the bend at the realm of emerging technologies in coaching.
---
Highlighted Research Need:
We need effectiveness studies with at least one or more behavioral measures of desired outcomes, not just self-assessment or self-report measures.
Recently Published Work:
de Haan, E. &  Nilsson, V.O.  (2023).  What can we know about the effectiveness of coaching? A meta-analysis based only on randomized controlled trials. Academy of Management Learning & Education, 00(00):1-21.
Passarelli, A.M., Moore, S., & Van Oosten, E.B. (2022).  How leaders and their coaches describe outcomes of coaching for intentional change. Consulting Psychology Journal, 74(4):329-346.
Erik de Haan and Viktor Nilsson recently published a comprehensive meta-analysis aggregating the results of 37 randomized control trial studies (the gold standard in research) of workplace and executive coaching programs. Their analysis showed a significant effect for coaching on client outcomes including behavioral outcomes and those reported by others or collected from objective measures.
In a recent longitudinal qualitative study, Angela Passarelli, Sarah Moore, and Ellen Van Oosten add to our understanding of coaching outcomes in identifying ten salient outcomes as reported by clients and their coaches upon concluding an intentional change theory (ICT)-based coaching engagement. Upon the conclusion of the coaching engagement, increased self-awareness was the most frequently described client outcome from the perspective of both coaches and clients. A significant finding relative to behavioral change was that, beyond increasing self-awareness, the most frequently described client outcome from the perspective of the coach was enacting change. While that was the third most described outcome (beyond increasing self-awareness) from the clients' perspective (preceded by internalizing a personal vision and developing an action plan), one year following the conclusion of the coaching, enacting change was the most frequently described of all outcomes from the clients' perspective.
As we venture into the future of coaching, technology, particularly AI and ML, will play a pivotal role in shaping coaching processes and outcomes. Recent studies shed light on this critical aspect of coaching research.
---
Highlighted Research Need:
We need research on the role of various approaches to artificial intelligence and coaching bots in effective coaching processes and outcomes.
Recently Published Work:
Terblanche, N., Molyn, J., de Haan, E. & Nilsson, V.  (2022).  Comparing artificial intelligence and human coaching goal attainment efficacy.  PLOS ONE17(6): e0270255
Nicky Terblanche along with a number of colleagues has been at the forefront of conducting a stream of research examining the efficacy of artificial intelligence in coaching. In this referenced article, he and his colleagues showed through two longitudinal randomized control trials that, over time, artificial intelligence coaching was as effective as human coaching in increasing client goal attainment. Findings such as these offer insight into the potential scalability of coaching of certain types. As is discussed in several of the articles in this collection, however, there is much to learn yet regarding the opportunities, as well as the challenges and risks associated with incorporating artificial intelligence into coaching.
As we continue our journey in the realm of coaching research, we must understand both human and machine activities in coaching while looking inward to identify the competencies that drive client change and desired outcomes.
---
Highlighted Research Need:
We need research to determine processes, approaches, and desired outcomes of specific types of clients, including women, gender diversity, people of various races, ethnicities, faiths, and gender orientations.
Recently Published Work:
Roche, C. & Passmore, J.  (2022).  "We do not see color!": How executive coaching can help leaders to create inclusive corporate cultures by acknowledging structural racism in its ecosystem.  Consulting Psychology Journal, 75(1):5-31.
Bernstein, A.  (2022).  Race matters in coaching: An empirical study of coaches' willingness to have difficult conversations with leaders of color.  Consulting Psychology Journal, 75(1):32-50.
In a special issue of Consulting Psychology Journal on the state of Black of Leadership, edited by Lawrence James and Lyne Desormeaux, Charmain Roche, and Jonathan Passmore share results of a qualitative study of coaches from five different countries who identified either as Black, Indigenous or people of color (BIPOC). Their findings suggest that by historically adopting a colorblind approach to the issue of race, the coaching industry fails to acknowledge or challenge the reality and impacts of systemic racism as experienced by BIPOC coaches.
In that same issue, Ariel Bernstein shares the results of his experimental study designed to examine the willingness of White coaches in the United Staes to have difficult conversations with Black clients. His study showed that White coaches did indeed provide less challenging and constructive feedback to Black clients than they did to White clients, and that they were twice as likely to engage in diversity related discussion with White clients. These studies suggest that the coaching industry is not necessarily experienced in the same way for people of all races. This indicates a need for additional research as called for on coaching clients from a variety of backgrounds and identities.
As we explore the potential of AI and ML in coaching, it is equally important to ensure that coaching research includes diverse perspectives and addresses the needs of clients from different backgrounds and identities.
---
Highlighted Research Need:
We need (longitudinal) research studies on coach competencies that predict client change and desired outcomes.
Work in Progress:
While it is premature to report on the findings at this point, Richard Boyatzis is serving as Principal Investigator on a number of longitudinal studies examining which coach competencies (as observed by others) most significantly predict a variety of client change outcomes. This work holds the promise of producing needed insight into empirically validated coach competencies as determined through rigorous research designs.
Each of the research studies highlighted here (published and in progress) represent important advancements in our understanding of the effects of coaching and demonstrate progress being made relative to the grand challenge of the future of coaching research. As we look to the future, it is essential to continue exploring the potential of AI, ML, and technology in coaching while ensuring that research investigates the most powerful mechanisms for change and is inclusive and addresses the diverse needs of clients . And while we await further published studies, you can always return here to the ICF Thought Leadership Institute Global Digital Library for reflections, insights, and other resources related to the future of coaching! We also encourage you to browse our other collections to learn how coaching has the capacity to influence the future of education, work, and planetary ecology.
Melvin Smith, BCC, PhD
July 31, 2023